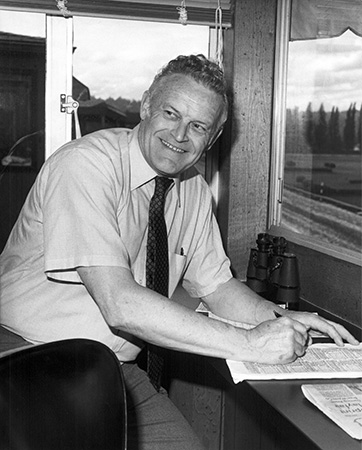 It was September 21, 1992, when Longacres Park conducted its last live race day and upon the program's conclusion, there awaited the bulldozers, dynamite and construction crews that would eradicate the facility's existence.
Three years ago journalist Dave Nelson from the Renton Patch published a piece in memory of that jewel of the Northwest's racing industry and to serve notice it had been two decades since the track's demise.
"Just days before the final race, Longacres took out full-page ads in all the daily newspapers," Nelson wrote. With a photo of the horses coming down the stretch, the ad stated: 'Rip out this page. In 96 hours it'll be all you have.'
"Closing day resembled the Academy Awards with women dressed to the nines and men dressed in suits," he continued. "The stars came out on the final night of racing, including Chinook Pass, who at the age of 13 paraded down the stretch just as he did in 1983 to win the Longacres Mile. More than 23,000 attended, making it the second largest crowd in Longacres history wagering more than $3.3 million. Between the fifth and sixth races trumpeter Dennis Schreffler played 'Thanks for the Memories.' Before the 11th race he played 'Taps,' then 'Auld Lang Syne.'"
While Joe Gottstein was certainly twisting and turning violently in his grave, there was another man who was preparing for his own end. A man whose life had been dedicated and devoted to the residents, both equine and human, the fans, the customers and the employees of Longacres. His name was Glen Williams and less than 60 days after the Renton oval ceased operation, the 2008 Washington Hall of Fame inductee, 66, had also left this earth.
Some would call it a twist of fate or a rare coincidence and claim that the two events, both devastating blows to the Washington Thoroughbred industry, could not possibly be even slightly related. For a man, however, who lived and breathed the sport, who was there when the track was constructed in 1933 and viewed the wreckage just days prior to his passing, there is no doubt the obliteration of Longacres had annihilated his heart.
"It was very sad for him to watch what was going on with all his memories," said Grant Holcomb, former racing director for the Emerald Racing Association and Williams' successor when he retired. "He had so much history here and was so involved with Longacres."
Early Days
Before Longacres ever was erected, it appeared destined to be a part of Glen Williams' soul. The Renton native was born and raised less than a mile from the track. In fact, his father took him to the construction site at the age of six to witness Longacres rise from what was once pasture.
"Longacres, as well as several other tracks of that era, came into being after racing was banned for many years, not because of any moral laxity, but because after the crash on Wall Street in 1929, the country was in the depth of the Great Depression," Susan van Dyke wrote in the Washington Thoroughbred. "Jobs were needed; and more than that, state coffers were on the lean side."
Also, it was no secret Joe Gottstein was addicted to horse racing and had been since childhood. Within days of the gambling ban that been instituted in 1908 being overturned, Gottstein put together a partnership to build Longacres and his employees completed his labor of love in a mere 28 days.
"The main reason they could build as quickly as they did was that the land was relatively level," Williams said. "Teams of horses and slips were used to slice, level and then carry the dirt. Men were lined up everywhere, as any and all wanted to work in those dark economic days."
Throughout his childhood, Williams was fortunate that his father understood and bolstered his passion for the ponies. As a youth he was a frequent visitor at Longacres and as soon as he was old enough, in high school to be exact, he was on the backside hotwalking horses for 50 cents a day.
A New Level of Training
The teenager, whether it was at the behest of his parents or common sense took hold, went off to the University of Washington, obtained his engineering degree and was immediately hired after graduation by The Boeing Company. The stability and salary of an engineer, however, was not enough to sate the passion for racing that had blossomed as a child and so at age 27, Williams returned to the Longacres' fold as a trainer. There are many that still believe he was one of the best conditioners, if not the best, the Evergreen State has ever seen.
"Once the track bug bit him, he determined that training horses offered more to his lifestyle than continuing on as an engineer," said Ralph Vacca, former general manager of the Washington Thoroughbred Breeders and Owners Association – who knew Williams for more than four decades – in a story in the Seattle Times. "He really was an institution and I believe he brought training to a new level around here."
And what a level that was. Within five years of training his first horse, Williams captured his first Longacres Derby and amassed two more triumphs in that event within a five-year span. Two of his pupils fellow Hall of Famer Sparrow Castle (1961) and Red Wind (1972) – Williams' final state champions – brought home the hardware in the Longacres Mile. Washington-bred Sparrow Castle is the only horse ever to win the Longacres Derby and Mile.
Williams was also responsible for guiding the careers of Washington champions Quina Reigh, Summereigh, Silver Duke, Tenino Ville, Smogy Dew, Gold Afloat and Miss Redoubt.
Smogy Dew is also a member of the Washington Racing Hall of Fame and "there never was a more accomplished, dominating filly to race in the Pacific Northwest." She remains "incomparable."
When that filly's co-owner Dr. Dan Ranniger was asked why Glen Williams was selected to oversee Smogy Dew's career he said, "He was the smartest and most capable trainer at Longacres. He was the secret to her (Smogy Dew's) success."
As he was to the success of many other equine athletes that resided in his barn. In his two decades (1954-74) of training Williams collected a record 57 stakes victories at Longacres.
Race Office
When the director of racing at Longacres perished in 1974, Williams was immediately tabbed as his successor. He accepted the position and it was the quite the transition, but like all else Williams tackled he excelled in his new role.
"It was kind of tough for him because he suddenly had to put himself in another place," former Longacres president Michael Alhadeff told the Seattle Times. "But he knew (racing) from both sides, and he understood what the horsemen wanted. They'd buck heads a little bit, but everyone had a great deal of respect for Glen."
Vacca concurred with Alhadeff's assessment and shed a bit more light on Williams' personality.
"It's the most difficult and most impossible job at the racetrack," said Vacca. "But I think most would recognize the fact that Glen had a very, very good command of the horses and that most horsemen respected his ability and knowledge of the industry."
During his 15 years as the director of racing, Williams saw the Longacres Mile become the first graded event in the Pacific Northwest, crafted a two-year-old stakes program and boosted the purses of the Longacres Derby and Belle Roberts Handicap exponentially.
He was also a mentor to those who followed in his footsteps. In fact, he supplied Bret Anderson, the current racing secretary at Emerald Downs, with his first job in the racing office and Anderson referred to him as one of his "best teachers."
After Williams decided it was time to retire in 1989, he still maintained a presence at Longacres Park. He could be seen in his own private box a minimum of several times a week as he watched the horses he adored so dearly perform their work.
He also passed down his affinity for the sport to his son Rick, who was a Longacres paddock judge.
"I've been fortunate enough to be able to devote my career to the sport of Thoroughbred racing," Williams told the Seattle Times shortly after he left Longacres. "Now I think it's time to turn over the reins of power and pursue some of my other interests."
Emerald Downs Director of IT Steve Dunhum summed it up this way, "Glen's life was full, not just because of his accomplishments, but because of how he felt about and treated others. I also recall he was an incredible story teller of past events, and being impressed with his recall of exact dates and years of such. As a graduating high school and college-age student, my years in the Race Office working alongside Glen and the staff were some of the best."
Unfortunately, Williams was experiencing a heart ailment the summer of 1992 that required surgery. Although science, genetics and age all play a role in developing heart disease, one would have to think the demise of Longacres Park may have been another factor that impacted Williams' health. After all, the two structures, one built of mortar and stone, the other merely mortal, had engaged in a love affair for nearly six decades.
Kentucky resident Kimberly French is a freelance writer whose work has appeared in Thoroughbred, Standardbred and Quarter Horse publications. She also freelances as a production assistant for ESPN's horse racing broadcasts.