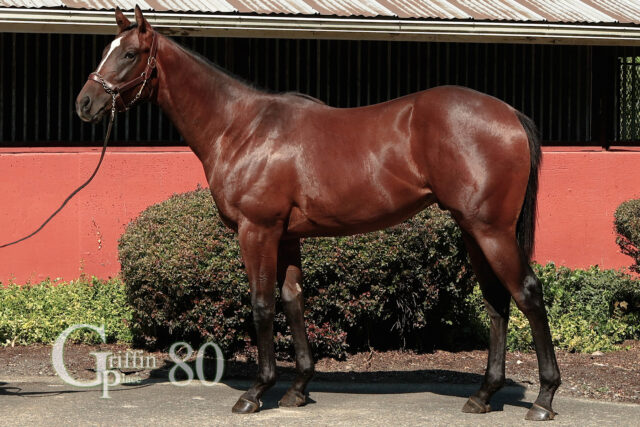 The 55th WTBOA Summer Sale is in the books! Topping the venue for $85,000 was Hip 80, a colt from the first American crop of topnotch Irish stallion Sir Prancealot. Bred and consigned by Griffin Place LLC, the half-brother to 2021-22 stakes winner Slack Tide was purchased by PT Syndicate #11 of San Mateo, California.
The sale's leading consignor, Terry and Mary Lou Griffin's Griffin Place LLC, also sold for themselves or as agent Hip 46, a Midshipman colt out of Washington champion Bella Mia for $76,000; and Hip 34, a son of hot freshman sire Sharp Azteca, was a $70,000 purchase. Both colts went to Dave Staudacher of Fort Lauderdale, Florida.
The Buckley couple also consigned Hip 56, a Grazen colt purchased for $62,000 by the successful longtime local partnership of John and Janene Maryanski and Gerry and Gail Schneider; Hip 4, a Grazen filly – the top-priced distaffer at the 2022 venue at $47,000 – out of multiple Washington champion Lady Rosberg, brought a bid of $47,000 from California trainer Andy Mathis; and Hip 24, a Tapizar filly who went to prominent local trainer Blaine Wright, as agent, for $46,000.
All told, the Griffins brought ten yearlings to the sale and sold them for a $474,000 gross and $47,400 average.
Also bringing a top bid was the $40,000 the Birklid family's Suntop Farm received for their Coast Guard half-brother to impressive 2022 stakes-winning juvenile Runnin Out of Days from PT Syndicate #1.
Three yearlings sold for $35,000 each: Hip 13, a colt from the last full crop of Harbor the Gold, consigned by Neal and Pam Christopherson's Bar C Racing Stables Inc., was bought by Roy Schaefer of Port Angeles; Hip 59, a colt consigned by Dr. Duane and Susan Hopp's Castlegate Farm was purchased by trainer Michael Puhich as agent; and, also consigned by the Christophersons, a Stanford filly sold to the Maryanskis and Schneiders.
A total of 22 yearlings brought a bid of $20,000 or more.
Eighty-five yearlings were cataloged, and after nine were withdrawn, 76 went through the sales ring with 68 selling for a $1,219,700 gross, up 7.6 percent from the 2021 sale. The $17,677 average was up 24.7 percent from 2021's $14,175 and the median rose 20 percent to $12,000.
The sale also provided new homes for 11 broodmares, with Dana Halvorson, as agent, signing for Hip 205 for $7,000. The seven-year-old daughter of Atta Boy Roy was sold through Blue Ribbon Farm, as agent for Timothy Donohue, as a three-in-one package which included her suckling colt by 2022 Washington leading sire Conveyance, who the mare was also bred back to.
For complete sale results, please visit https://washingtonthoroughbred.com/wtboa-summer-yearling-mixed-sale-catalog-2022-searchable-sortable/. Or CLICK HERE for PDF results. Sale results are subject to change.