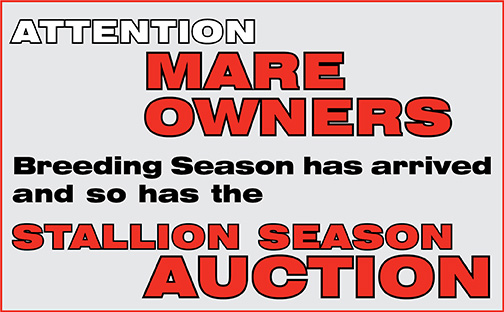 The WTBOA will be auctioning off 2017 No Guarantee* Breeding Seasons which have been donated to the association. Bids must be at least 40% of the advertised fees, as shown at right (unless specified otherwise). Stallion owners/managers reserve the right to accept only Thoroughbred broodmares that are clean and sound for breeding (veterinary certificates required). Board, care and veterinary expenses are not included in the stallion season price.
We are excited to announce that the proceeds from this year's event will be split between two lucrative bonus programs – the expanded Sales Incentive Program and the WTBOA Homebred Incentive Program.
Sales Incentive Program (SIP) – Beginning with the 2015 WTBOA Sale, all yearlings and weanlings that go through the sale and are made fully eligible will earn a lucrative bonus if they break their maiden at Emerald Downs at age two or three at one of two levels: A $2,500 owner's bonus will be paid if a SIP-eligible horse wins its first race in a maiden special weight, allowance or stakes race; or a $1,000 owner's bonus will be paid if a SIP-eligible horse wins its first race in a $25,000 or more maiden claiming race.
WTBOA Homebred Incentive Program (WHIP) awards home-breds that have not gone through any sale (sold or RNA) and are racing at Emerald Downs. Beginning with the 2016 race meet, a $1,000 bonus will be paid to the owner of any Washington-bred two-year-old or three-year-old when it breaks its maiden at the $25,000 level or better.
For more information or for specific details on either program, please contact our office at (253) 288-7878. Bids may be submitted via the online form below; e-mailed to maindesk@wtboa.com; or mailed to WTBOA, Attn: Stallion Season Auction, 3220 Ron Crockett Dr. NW, Auburn, WA 98001.
*Winning bidder will have the services of the stallion for the cover(s) of one mare during the 2017 breeding season unless otherwise noted. No refunds. NOTE: Several stallions offer a RETURN for the following season if the mare comes up empty.
Stallion, by Sire
Standing At
City, State
Stud Fee
Starting Bid
Return
Abraaj,
by Carson City
El Dorado Farms LLC
Enumclaw, WA
 
SOLD
Atta Boy Roy,
by Tribunal
Blue Ribbon Farm
Buckley, WA
 
SOLD
Bahamian Squall,
by Gone West
Double Diamond Farm
Ocala, FL
$5,000
$2,000
Brave Cat,
by Lion Heart
Daehling Ranch LLC
Elk Grove, CA
$1,000
$400
Coach Bob,
by Bertrando
Daehling Ranch LLC
Elk Grove, CA
$1,500
$600
Coast Guard,
by Stormy Atlantic
El Dorado Farms LLC
Enumclaw, WA
 
SOLD
Demon Warlock,
by Demons Begone
Roche Farm
Yakima, WA
 
SOLD
Drill,
by Lawyer Ron
Get Away Farm
Lowell, FL
$4,500
$1,800
Einstein (Brz),
by Spend a Buck
Daehling Ranch LLC
Elk Grove, CA
$3,000
$1,200
Fullbridled,
by Unbridled's Song
Daehling Ranch LLC
Elk Grove, CA
$1,500
$600
Gallant Son,
by Malabar Gold
Daehling Ranch LLC
Elk Grove, CA
$2,000
$800
Giacomo,
by Holly Bull
Oakhurst Thoroughbreds
Newburg, OR
$2,500
$1,000
Harbor the Gold,
by Seeking the Gold
Bar C Racing Stables Inc.
Hermiston, OR
 
SOLD
 
Hidden Blessing,
by Orientate
Blue Diamond Horseshoe, LLC
Aquanga, CA
$1,500
$600
Yes
Houseofroyalhearts,
by Chester House
Magnum Farms
Enumclaw, WA
$1,000
$400
Yes
James Street,
by El Prado (Ire)
Blue Diamond Horseshoe, LLC
Aquanga, CA
$10,000
$1,500
Yes
Jersey Town,
by Speightstown
Darby Dan Farm
Lexington, KY
$5,000
$1,000
Lightnin N Thunder,
by Storm Cat
Ben Mears Farm
West Alexandria, OH
$2,000
$800
Yes
Linchpin,
by Elusive Quality
Gibson Thoroughbred Farm
Thorp, WA
 
SOLD
 
Mr. Rancho Vista,
by Northern Afleet
West Coast Training Center
Auburn, WA
$1,000
$400
Yes
Nationhood,
by Cherokee Run
Blue Ribbon Farm
Buckley, WA
 
SOLD
Niagara Falls,
by Giant's Causeway
Daehling Ranch LLC
Elk Grove, CA
$1,500
$600
Noosito,
by Harbor the Gold
El Dorado Farms LLC
Enumclaw, WA
 
SOLD
Northern Causeway,
by Giant's Causeway
Rancho San Miguel
San Miguel, CA
$2,500
$1,500
Otto's Echo,
by Kitalpha
Allaire Farms
Poulsbo, WA
Private Treaty
$200
Yes
Parker's Storm Cat,
by Storm Cat
Gibson Thoroughbred Farm
Thorp, WA
$2,000
$800
Peppered Cat,
by Tabasco Cat
Daehling Ranch LLC
Elk Grove, CA
$3,000
$1,200
Perfect Soul (Ire),
by Sadler's Wells
Darby Dan Farm
Lexington, KY
$2,000
No Reserve
Primal Instinct,
by Giant's Causeway
Tip of the Hat Farm
Ellensburg, WA
$1,500
$600
Yes
Private Gold,
by Seeking the Gold
El Dorado Farms LLC
Enumclaw, WA
Private Treaty
$600
Yes
Raise the Bluff,
by Pine Bluff
El Dorado Farms LLC
Enumclaw, WA
 
SOLD
Rallying Cry,
by War Chant
Allaire Farms
Poulsbo, WA
$500
$200
Yes
Run Away and Hide,
by City Zip
Darby Dan Farm
Lexington, KY
$5,000
$1,000
Run Brother Run,
by Perfect Mandate
Daehling Ranch LLC
Elk Grove, CA
$1,000
$400
Running Tap,
by Tapit
Boyd Stables
Omak, WA
 
SOLD
Sequoyah,
by A. P. Indy
Swifty Farms
Seymour, IN
$2,000
$800
Yes
Sierra Sunset,
by Bertrando
Daehling Ranch LLC
Elk Grove, CA
$2,500
$1,000
Sixthirteen,
by Dixie Union
Bar C Racing Stables Inc.
Hermiston, OR
 
SOLD
Sky Kingdom,
by Empire Maker
Darby Dan Farm
Lexington, KY
$5,000
$1,000
Smiling Tiger,
by Hold That Tiger
Harris Farms
Coalinga, CA
 
SOLD
Tale of Ekati,
by Tale of the Cat
Darby Dan Farm
Lexington, KY
 
SOLD
Trickey Trevor,
by Demaloot Demashoot
Allaire Farms
Poulsbo, WA
$750
$300
Yes
Two Step Salsa,
by Petionville
Get Away Farm
Lowell, FL
$7,500
$3,000
Under Caution,
by A. P. Indy
Daehling Ranch LLC
Elk Grove, CA
 
SOLD
War Power,
by Pulpit
Gibson Thoroughbred Farm
Thorp, WA
$1,500
$600
Wolfcamp,
by El Prado (Ire)
Swifty Farms
Seymour, IN
$2,000
$800
Yes
BID FORM: